Are You Ready to Work From Home?
By Pamela Wong
Pamela is a Trained Professional Organizer based in Oakville, Ontario and is the owner of Zen N Organized. She helps homeowners and small business owners transform their homes and home offices into organized spaces. She has a practical, non-judgemental approach to organizing. Her objective is to create functional and harmonious spaces for her clients.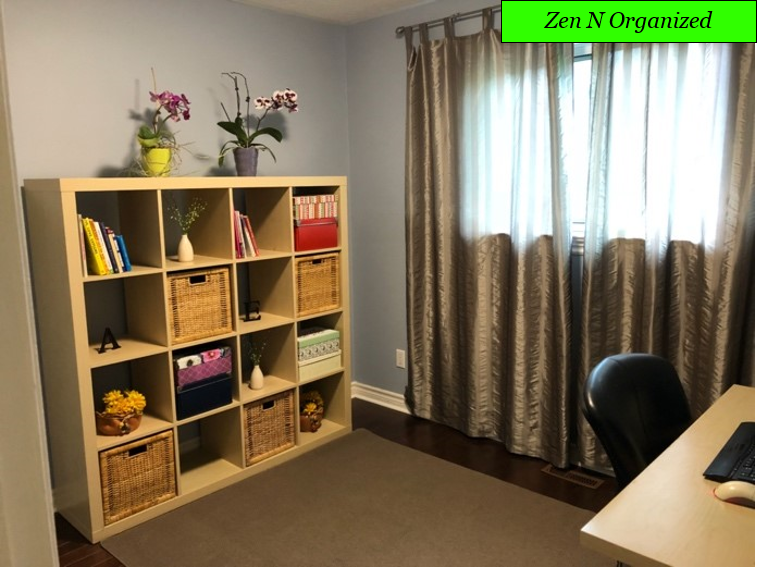 What is your reaction to "working from home?" It may be "That's awesome! I can stay in my pajamas all day, my commute involves me walking from my bedroom to my home office, and I can make anything I want for lunch in my own kitchen."
Covid-19 is causing a global pandemic. Not only does it have an impact on our daily lives, but it is also affecting the way we conduct business. Here in Ontario, many people have been asked by their employers to work from home for the foreseeable future.
So here's my question for you: "Is your home office ready for YOU to be there 8 hours a day, 5 days a week?"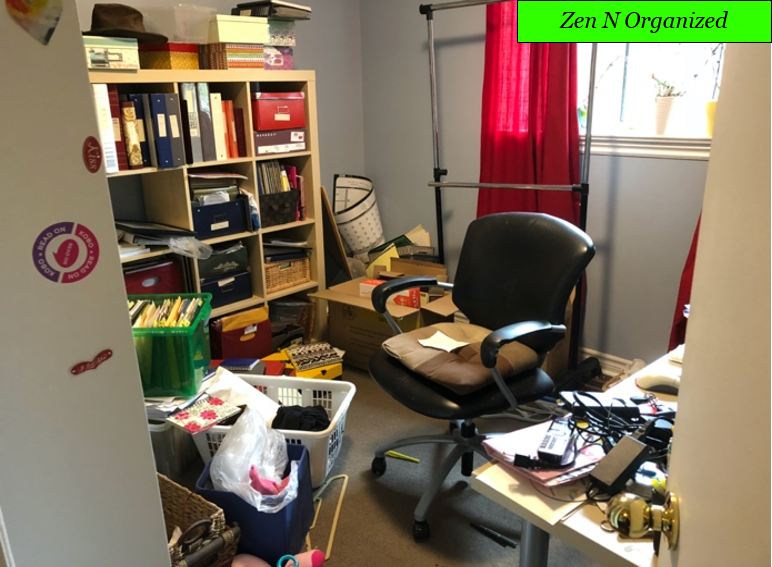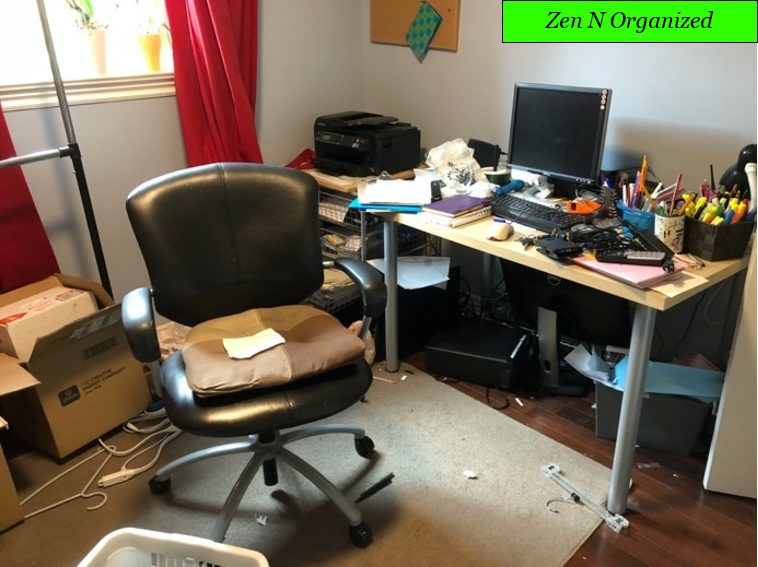 When I first started working from home a few years ago, I had to rearrange quite a few things for the space to work for me. A few years later, my husband also started working from home and it then required further reorganizing and editing, just to avoid stepping over each other. It took some time, but in the end, we made it work.
Here are some of the things my spouse and I focused on:
1. Workspace:
Being comfortable and staying efficient are two important factors in a functional home office. Is your internet access fast and uninterrupted? Is your chair comfortable and does the space have good lighting? Is your laptop sitting at the right height? Do you have all the office supplies you need? If you and your significant other are both working from home, it is pertinent to define yours vs. your spouse's office space.
2. Data Security:
Confidential data about your company as well as your clients' information must be protected. Is your internet and security at home operating at the optimal level? Do you have access to your work's IT department to help you safeguard and secure such sensitive material?
3. Distractions:
If you are a parent, one of the biggest distractions you will have is your children. They may not understand that just because you are home doesn't mean that you are available. To solve this problem, create a "Do Not Disturb" sign and let them know if the sign is up, then they cannot disturb you (unless there is an emergency of course). Reducing the distractions and the noise are especially important if you have to be on the phone or on a video/conference call.
If you are not a parent, you can have other distractions like the TV, pets wanting your attention and even your own kitchen! Limiting any disruptions will make your workday more productive.

4. General Office Organization:
Avoid confusion and possible misfiling by separating business documents from personal papers. Create a temporary filing system to control the paper clutter in your home office and avoid losing important documents. Having similar categories as that at work will reduce the time for you to file those documents when it's time for you have to bring them back to work.
5. Beverages and Food:
If you are used to grabbing a coffee (or tea) on your way to your office, you may need to modify the routine by making them at home*. The same goes with your lunches. Stock up your fridge and make lunches at home so you will have more time to work on the project at hand.
*You will be surprised how much money you can save when you make your coffee at home.
Learn more here: 12 Simple Money Saving Tips
With proper planning and organization, working from home can be both enjoyable and productive.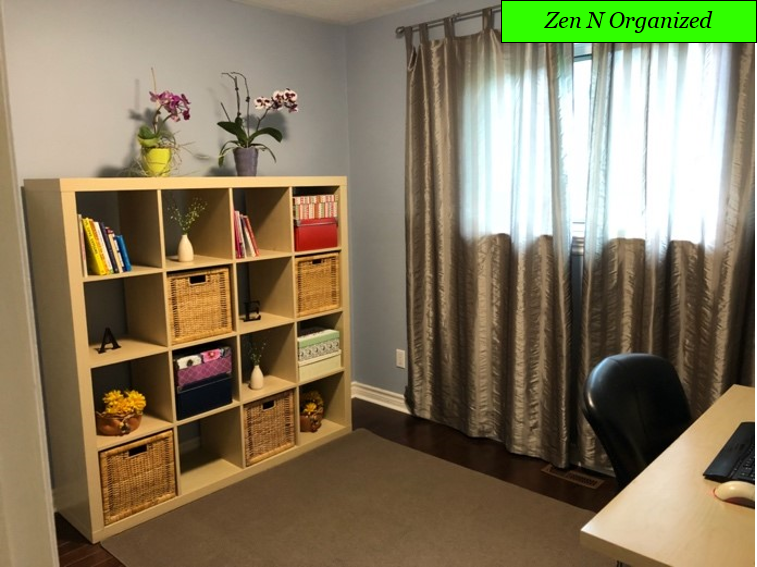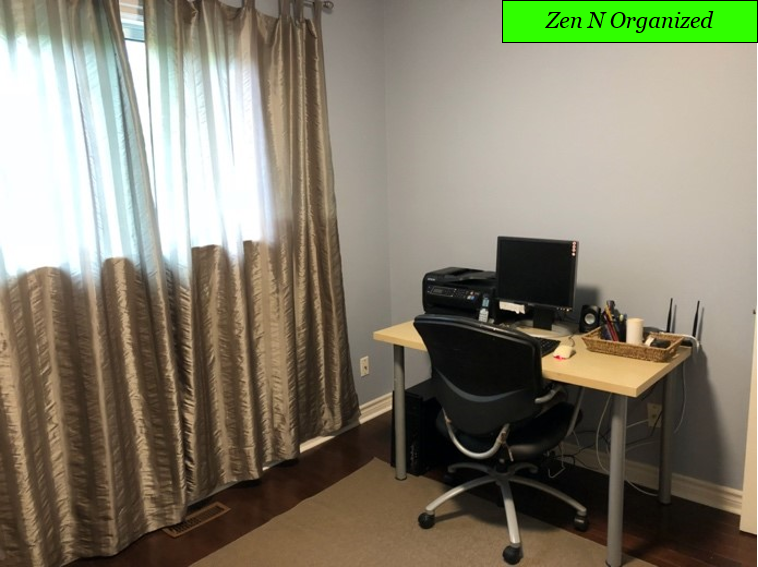 Zen N Organized helps transform your office space into a more functional environment.
Check out our Facebook and Instagram posts for additional inspiration.