By Pamela Wong
Pamela is a Trained Professional Organizer based in Oakville, Ontario and is the owner of Zen N Organized. She helps homeowners and small business owners transform their homes and home offices into organized spaces. She has a practical, non-judgemental approach to organizing. Her objective is to create functional and harmonious spaces for her clients.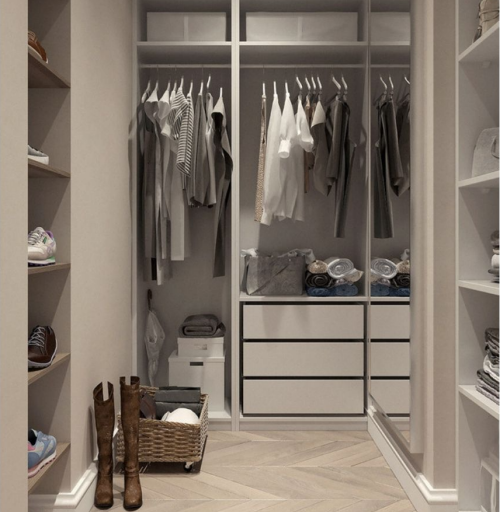 Have you said, "I don't have anything to wear!" more than a few times lately?  If so, then your closet is probably in need of some help.
Why Do We Need To Declutter Closets?
Closets are often one of the smallest "rooms" in your home.  Unlike kitchens or family rooms, we don't tend to linger in our closets.  As a result, we often forget that this space is in need of decluttering, often just as much as other parts of the home.
Start with a Plan
Even with a walk-in closet, most of us do not have enough room for all of our clothes and accessories.  With the limited space and lots of outfits, the best way is to start with a plan.  Work with a closet designer to help you maximize the space.
Decluttering and Organizing Tips
If you are tugging at the clothes every time you wear it, then the truth is that you will never be comfortable in it, and it may be time to discard it.
When was the last time you wore the piece of clothing? If it's been more than 2 years, then it is just taking up prime real estate.  Let It go, so that you will have more room for items you really love and want
Is it still in style today?
Is it too big or too small? Remember, you want to have room for the clothes that fit you today, not last year, not next year
Does it still fit your current lifestyle? Ok, you may have a business suit that still fits and is in style, but if you are now retired and there is no need to keep a business suit, then it is just taking up space in your closet
When you bring in one, you take out two (or more). This way, you will always have room in your closet
Declutter before you purchase any containers. That way, your will be sure that all items will fit in those beautiful baskets you buy
Do you like a junk drawer in your kitchen? If so, then you are going to want a catch-all basket in your closet
A Couple of Things To Think About
There are a few things you may want to think about before you start your closet organizing project:
How do you like to store your clothes? Folding or hanging? You may like Marie Kondo's method of folding as it will save a lot of space, but will you be able to maintain it? 
20/80 rule – You wear 20% of your clothes 80% of the time. That means 80% of the clothes that you have in the closet is hardly worn. Time to do some decluttering!
Want to give yourself a challenge? Check out Project 333.
Reclaim Your Closet
With some careful planning and edits, you can reclaim your closet space in no time.
No more "I have nothing to wear!" and say yes to, "So many choices, what do I feel like today?"