Decluttering – Where To Start?
By Pamela Wong
Pamela is a Trained Professional Organizer based in Oakville, Ontario and is the owner of Zen N Organized. She helps homeowners and small business owners transform their homes and home offices into organized spaces. She has a practical, non-judgemental approach to organizing. Her objective is to create functional and harmonious spaces for her clients.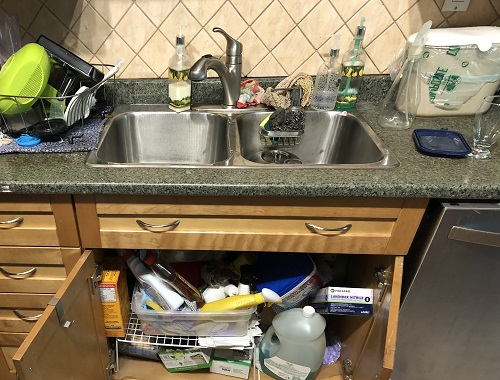 Happy New Year!  Wishing you a year of growth and positivity!
Besides wishing your family and friends health and prosperity in the upcoming year, did you make some new year 's resolutions?  Do any of the resolutions include being more productive, finding more time to spend with your family and friends, less stress, or just simplifying your life?
The thing is, you know you have to get your home more organized in order to achieve any of these resolutions, you know you need to clear out some of the clutter, and you want a simpler peaceful space.  The problem is that you don't know where to start, how much time it will take and how to go about achieving your goals.
The good thing is that you've made the most important step – beginning. Give yourself a big pat on the back, this is the toughest first step and you did it!  Now you probably want to know where you should start.  Here are a few things to consider:
Start Small
If you can only spare 10 to 15 minutes a day, that's okay!  Babies learn to sit, stand and walk before they learn to run.  It is absolutely okay to take some baby steps first.  The key is to keep at it and stay on task.  It may take you a few 10-minute sessions, but by keeping at it, you can get it done!
Get Motivated
Start in an area that can provide the most impact in the shortest amount of time.  This is different for everyone and for every home.  It may be your living room, your dining room, your entryway, your kitchen counter, or it may be one of the drawers in the kitchen.  Whatever the space is, stay focus, get that one space completed and enjoy the accomplishment.  That feeling will keep you motivated to continue into the rest of your home.
Practical Over Sentimental
It is always easier to work on decluttering practical items first.  Practical items such as towels and sheets, pots and pans or cleaning supplies take much less time to organize than sentimental items.  As a trained professional organizer, I encourage my clients to declutter the easier items in the household first so that they can stay focus and maintain the motivation.  Family heirlooms or baby clothes often have such sentimental values attached to them and would take a lot longer to decide what to do with them.
Macro Then Micro
Like sentimental items, papers and documents also take longer to declutter.  It takes time to review each piece of paper and in many cases, it takes a couple of rounds to tweak the labelling.  I suggest you start with "macro" categories in the first round so that the major categories (e.g. banks) are captured.  This will speed up the process and you wouldn't get bogged down by too many details.  In the second round you can separate the files further into more detailed categories (e.g. Royal Bank, TD Bank) if needed.
Stay Motivated
If you've read this far, you will notice that staying motivated is something I consistently mention.  Similar to losing weight, it feels so good to be able to lose the first few pounds. It gives you motivated to stay on the weight loss journey.   Once you've decluttered a few small areas, you will feel more motivated to continue to work on the rest of your house.
Reward yourself
Once you've completed an area or a room, treat yourself to a small reward.  Acknowledge the progress that you've made and continue the process.   The clutter didn't appear in one day, so the reverse will also take some time.  Keep at it and stay on top of it.
I hope you rediscover your relaxed self by losing the clutter weight.  There is nothing better than regaining your smile when your home is organized!