Kitchen – Decluttering & Organizing
By Pamela Wong
Pamela is a Trained Professional Organizer based in Oakville, Ontario and is the owner of Zen N Organized. She helps homeowners and small business owners transform their homes and home offices into organized spaces. She has a practical, non-judgemental approach to organizing. Her objective is to create functional and harmonious spaces for her clients.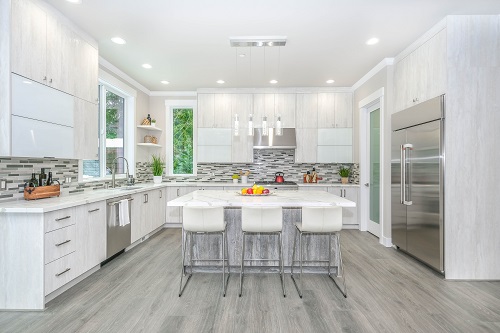 How is your spring cleaning journey going?  Not too bad? But still need some ideas with areas inside the home?  No problem.
For the next few months my blog will focus on organization in the kitchen, the closet, and the storage spaces.
Let's start with kitchen decluttering and organizing.
Why the kitchen?
The kitchen is the heart of the home. No matter how big or small, the kitchen is where family and friends gather, where meals are made, and homework is completed.
As a high traffic area, things can accumulate quickly and constantly – beyond the dishes and plates, glasses and mugs, pots and pans, there is also an accumulation of homework, school papers, arts and crafts, mail, keys, sunglasses and other personal items.
With the kitchen being prime real estate in a home, having it nice and organized will make life easier for everyone in the household.
Declutter Before Organize
Why spend time organizing stuff that you are never going to use?  Clearing the clutter will increase storage space and create a more welcoming kitchen.
What to Declutter
Here are some things that you should declutter before organizing:
Expired food – This includes canned food in your pantry, expired vitamins and supplements, old herb and spices.
See that top shelf in the kitchen?  When was the last time you use something from it? Let's clear off those shelves.
The chipped plates/glasses – This is particularly important for the safety of everyone in the home.
The "latest" kitchen gadget that you bought years ago but might have only used a handful of times.
Just-in-Case items – "I will just keep a few take-out containers or empty jars, just in case!"  How many just-in-case items do you have? Be realistic and keep only what's necessary.
Extras – Extra mugs, extra plastic containers, extra plates.  Keep only what is needed and donate what you can to those in need.
Donate. Recycle. Reuse
Most of you are aware of your local charities or donation centres, so I won't talk about that. But did you know that some companies, such as Case – Reuse & Recycling in Toronto, partners with restaurants to recirculate take-out containers?
Google is a great resource to see if you have something similar in your area.
Make Your Kitchen Functional
Now that you have edited the items, the fun part begins.
You get to put things back in order, and make your kitchen nice and neat, just the way you want.
Here's a few safety tips and ideas:
For safety – If at all possible, keep the heavy appliances at eye level
For convenience - Store items where you use them e.g. pots and pans by the stove, mugs close to your coffee pot or kettle.
Pantry - Group items by category and put shortest expiry date at the front so that they get used up first
Fridge – Just like the pantry, the same goes with the fridge – group things like condiments in one area and put oldest fruits and vegetables at the front of the drawers
Containerize smaller items and label the containers.  Wouldn't it be nice to hear "Mom, I can't find…" less often?
Less Mess Less Stress
There is no doubt that the kitchen is the heart of the home.  Things get used, consumed, accumulated, and left behind in the kitchen.  Let's reduce the mess and reclaim the prime real estate in your home.